Principal: Antony Dandato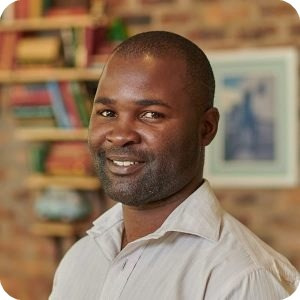 A. Dandato is an ordained Anglican Prebyster of Reformed Evangelical Anglican Church (REACH) Zimbabwe, serving at Holy Trinity Church Eastlea. He served as the National Director of FOCUS (Fellowship of Christian Unions) Zimbabwe for 7 years. He also served as a pastor within the United Baptist Church for several years. He is committed to strengthening the Church of the Lord Jesus through mentoring, training, and theological education. Antony is well knowledgeable in managing and leading large Christian organizations. He joined HTC in 2016. He holds a B.A. and M.A. in Theology, and is pursuing his Ph.D. at Lancaster Bible College, USA. He is married and has three beautiful children.
Academic Dean: Dr. Silvia Linington
S. Linington came to Zimbabwe in 1989 as a teacher from German joined HTC in 2004. She got married to Greg in 1994. Silvia has a teaching degree (equivalent of BA Hons in English, Maths and RE) from a German university, a Certificate of Higher Education in Missiology and Biblical Studies (All Nations Christian College, UK), an MTh in Old Testament (UNISA) and a DTh in Old Testament (UNISA). Silvia loves teaching and studying the Bible, in particular Old Testament and Hebrew.
Dean of Students: Dr. Christopher Chisale
Registrar: Mr. Sammie Mangwiro
Sammie is a  member and Pastor of Glad Tidings Fellowship and holds a leadership position. He is a scholar with a strong social and academic consciousness and humanitarian, deeply concerned about the state of the world, for which he has great compassion and idealism. He graduated at Pan Africa Christian College with a Bachelor of Bible and Theology in 2005, and in 2015 graduated with a Master of Arts Ministerial Studies (leadership Concentration) at Global University Western Cape. He is mission minded and has a passion for identifying, developing, and releasing emerging leaders into ministry for the fulfillment of the Great Commission. He is married and has two children.
Administrator: Mr. Naison Mangwende
Naison is a dedicated believer and member of Covenanters Christian Church. His religious service includes an 8-year tenure as a Pastor at Mutare Baptist Church and leadership roles within the Baptist Union of Zimbabwe and the Association of Baptist Denominations in Zimbabwe. He is a strategic planner with skills in public speaking, public policy, administration, treasury management, transportation, logistics management, and business development. He holds degrees in Logistics and Transport Management (GZU), Religious Studies and Theology (ZOU), and Masters degrees in Public Policy and Governance from Africa University and Strategic Management (GZU). He has studied marketing management with IAC and Finance with ZOU and is a holder of an International Diploma in Transport and Logistics (CILT). He is married and has two daughters. His commitment to his faith, professional excellence, and family life are testament to his multifaceted persona.
Librarian: Sarah Chitando
Sarah is a Member of Zaoga forward in faith. She holds a bachelors degree in Library and information science (NUST). She is currently pursuing her Masters in Information Science and Knowledge Management at University of Zimbabwe. She joined HTC in 2020.
Adjunct Lecturers
 
 
 

Peter-Manzanga

 

Primrose Makumbini is married to Elias Makumbini and lives in Harare. She is a member of Holy Trinity Church in Eastlea. Primrose obtained her Diploma in Pastoral studies at Rusitu Bible College, Bth, Honors and Masters in Theology degrees from George Whitefield College in Cape Town, South Africa. Her passion is teaching the Bible to other people, in particular (but not limited to) New Testament and practical theology. She is currently pursuing her Doctorate. 

 
 
Finance Officer:

Jane Mabika
Jane Mabika is a born-again Christian with a diploma in book-keeping and accounts. She is currently working on her diploma in theology.
Receptionist: Lucy Chifunyise
Lucy Chifunyise has been at HTC since 2012. She is a mother of 3 children.  Lucy is also studying for her Diploma in Theology at HTC. She is a member of Faith Ministries Borrowdale Community Church and serves in the music team.
Assistant Librarian: Leah Jingini





 

 

Maintenance :Mr. Lovemore Mudzagada

Mr. Mudzagada




He is married and has 4 children.




he has a certificate in theology acquired at Harare theological college.

Office cleaner:

Mrs. P Mukakavari

 

Caretaker: Mr. Godrick Zhanda

Mr. Zhanda joined HTC in May 2007 as a Caretaker, and he has a wide experience on the same position having worked from two other companies. He is a member of Kururama Apostolic Church. He is married and has 3 children.